MIK is a software development firm, focusing exclusively on the asset management industry.
MIK Fund Solutions was founded by Fadi Kaddoura in 2006. Our team has expertise across a wide range of.NET technologies and Relational Databases design. In addition, MIK employees have extensive business expertise across asset classes, vendor applications and functional areas within a hedge fund.
Our Senior Management Team
Contact Us
MIK Fund Solutions
155 East 56th Street, 2nd Floor
New York, NY 10022
T. 212.468.2000
F. 646.390.9526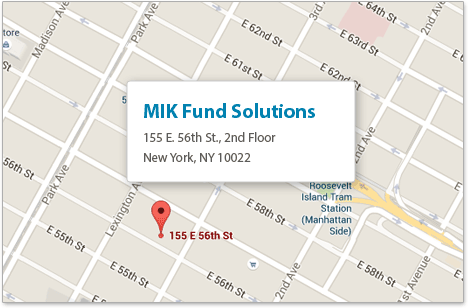 Careers at MIK
Position: Applications Developer (New York, NY)

Duties/Responsibilities: Design, develop, customize, and support applications within company's real time firm-wide Security Master and Data Warehouse (for trading, risk analyses/operations) software system based on SOA (Service-Oriented Architecture), utilizing C#, .NET framework, SQL server, XML, and Visual Studio; participate in all stages of SDLC (Software Development Life Cycle); provide support to solve complex production issues regarding risk and operations in a timely manner.

Requirements: Master in Computer Science related field plus 2 years as applications developer, programmer, or research assistant developing computer applications. Experience must include 1 year with C #, .NET, Visual Studio and familiarity with SOA, SDLC, SQL, and XML through experience, coursework, or self learning.
Please send resume to:
HR, MIK Group, Inc.
dba MIK Fund Solutions
155 East 56th Street, 2nd Floor
New York, NY 10022